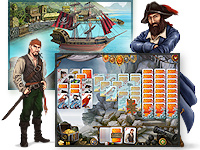 I'm pleased to announce that one of our greatest solitaires is now available for Android devices. Please give Seven Seas Solitaire on Google Play a warm welcome.
The high seas are rife with the makings of legends: pirates, storms, lost treasure and terrifying monsters abound. After a glorious career in the King's navy, you were looking forward to a relaxing retirement, and marriage to the beautiful Elaine… until she went missing, and you were blamed. Now, your only hope to reclaim this happy life is to return to the sea once more, to find Elaine and bring her home.
Download free trial of Seven Seas Solitaire from Google Play now!