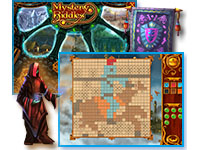 Good news for Android fans. We just released Mystery Riddles for your devices.
The most powerful magicians in the kingdom of Mysteria were once the Pictomancers, who had the power to imbue painted or woven images with arcane energy. They have all but disappeared from the land, taking their secrets with them, but the Great Tapestries they created in their heyday have kept Mysteria from harm… until now.
With the Great Tapestries fraying and darkness returning to threaten Mysteria it's up to you, the last Pictomancer, to quest throughout the kingdom and restore these powerful images and save the kingdom. Take on the journey in one of two modes, tackling either the always-popular Pic-A-Pix puzzles or the brand new Fill-A-Pix!
You can download Mystery Riddles from Google Play for free.