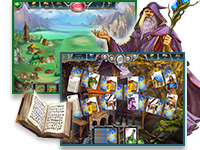 I am pleased to announce that our most magical solitaire game is available for Android phones and tablets on Google Play. Avalon Legends Solitaire 2 can be downloaded for free (try before you buy) and the full story can be unlocked for one time fee.
The fate of Camelot is in your hands! The Druids of Avalon channel the forces of nature through their magic cards, using them to weave powerful spells of growth and healing. There are rules to their magic, however, and the cards must be placed in the correct order by a careful hand in order to function.
Harness the power of the cards as you travel across Avalon through 300 meticulously crafted levels of engaging solitaire to collect the resources you need to restore the kingdom to glory. Simultaneously relaxing and challenging, Avalon Solitaire 2 features 24 power-ups, over 30 buildings to rebuild and reap benefits from, plus wild cards, jokers, hazards and more, making it a must-play for solitaire fans!
The game is also available on Windows, Mac OS X and iOS.
Download Avalon Legends Solitaire 2 from Google Play.
Download Avalon Legends Solitaire 2 for Windows.
Download Avalon Legends Solitaire 2 for OS X.
Download Avalon Legends Solitaire 2 for iOS.