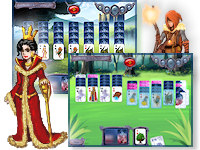 We're pleased to announce the release of our second Android game – Avalon Legends Solitaire.
Download Avalon Legends Solitaire from Google Play.
Restore the Deck of Nature and save Avalon!
Avalon. A land of lush forests, great plains, tall mountains… and most of all, magic! The Druids of Avalon wield powerful healing magic, activated through the use of magic cards. Just like runestones, the magic of the cards is unlocked by placing them in the correct order.
Travel through 200 unique levels, collecting magic cards along the way in your quest to reassemble the Deck of Nature. Set up huge combos to maximize your score multiplier, and cash in your winnings at the store for powerful bonus items. Collect wild cards, and use them wisely to achieve perfect results!
You can download Avalon Legends Solitaire for free from Google Play Store and unlock full game experience with one time in-app purchase.