Harness the magic of the cards to rebuild Camelot!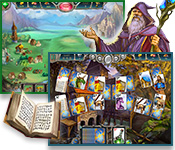 The fate of Camelot is in your hands! The Druids of Avalon channel the forces of nature through their magic cards, using them to weave powerful spells of growth and healing. There are rules to their magic, however, and the cards must be placed in the correct order by a careful hand in order to function.
Although reclusive by nature, the druids have a long-standing alliance with King Arthur and his knights of Camelot, having pledged to come to their aid in times of need. Now is such a time! Camelot lies in ruins, sacked by goblins and Arthur needs your help to rebuild it.
Download Avalon Legends Solitaire 2 for PC Windows (177 MB)
Download Avalon Legends Solitaire 2 for Mac OS X (192 MB)