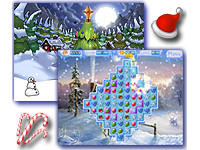 We are pleased to announce timely release of The Perfect Tree for Linux. The Perfect Tree is Christmas themed match-3 game, with cheerful music, joyful game play and the best atmosphere for upcoming holidays.
Spruce up your Christmas season with The Perfect Tree, a cheerful holiday offering from Anawiki Games! Based on the classic Christmas tale of the same name, the game tells the story of a lonely little pine tree and the player's efforts to help it become the perfect Christmas tree.

The Perfect Tree features classic Match-3 mechanics, enhanced by numerous exciting power-ups, seasonal level design and gorgeous special effects. Earn stars by chaining together combos and by clearing levels as quickly as possible, then trade them in for lights, ornaments, garlands and presents to turn the poor, pitiful pine into a beautiful Christmas tree of your own design.
The Perfect Tree has been tested on following distributions:
Ubuntu 9.04, 9.10 and 10.10
openSUSE 11.3
Slackware 13
Please download Linux trial here:
http://www.anawiki.com/download/the-perfect-tree?os=linux
PC Windows and Mac versions are available here:
http://www.anawiki.com/game/the-perfect-tree