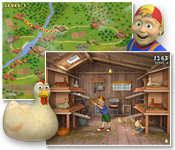 Tom's Hen House - $9.99
Tom's life in his orphanage wasn't easy. Older mates were teasing him all the time, so when the first opportunity arose, he decided to escape and change his fate.
Walking through the forest, Tom meets an old man, whom he helps to collect firewood. The man turns out to be an ancient and forgotten master of the Festival of Chicken Egg. The old man, seeing so much hope in the boy's eyes, promises to give Tom a few hens and prepare him to take part in the Festival.
And so starts Tom's adventure, in which he meets new friends and enemies, and perhaps - in the end - even fame and a new family. Participating in different contests, which are of catching eggs, hitting the target and playing 'three cups', Tom has to make himself ready for the Great Final performance. His master's advice as well as the chance of modifying his henhouse by buying some more hens in a local shop should also contribute to Tom's victory.
Take part in the annual Festival of Chicken Egg. Help Tom to gain mastery of this competition and win the Great Final. Learn adventurous history and get to know who Zuzanna is and what her role in Tom's life is going to be. Find out why Tom is going to fight infamous Joe. Who else will Tom meet on his way to the Final? Who will win the Mayor's Award? Play our game to find all the answers!
3 game modes: Career, Classic and Relaxed
2 bonus games: hit the target and pick a pot
3 difficulty levels
40 main levels plus 40 bonus levels
Lot's of power ups to aid you in your career
Store that let you decide what to improve first
Great graphics, music and sound effects
Addictive gameplay
Easy to learn, hard to master
Fun to play
Great for everyone
Submit your highscores online
PC Windows




Get free 10MB demo now!





Get full version now!

Mac OSX




Get free 25MB demo now!





Get full version now!




Special offer

Buy Tom's Hen House now and you will receive coupon code allowing you to get 20% off of your next purchase of Anawiki Games.


main screen
hit the target
Tom in the Hen House
pick a pot
area map
village shop
It's a beautiful game -- I think the graphics are terrific, and the few mini-games between levels that I tried were fun.

Mark Batten - Red Marble Games
Wow! You have probably the best prerendered 3d graphics I have ever seen in an indie game (very detailed and realistica and with a fine layer of cartoon style above it - really congratulations).

Janko Metelko - Brave Kid Games





(5 of 5)
kidsdown.com review
Lovely work - pat on the back to you and your team - very professionally produced work! I like it a lot. Looks great, very crisp and nice design, music is right for the job too.

Peter