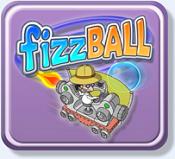 System requirements:
PC:Windows 95/98/2000/ME/XP
Pentium 400MHz or better
128MB RAM
35MB hard drive space




Mac: OS X
400MHz or better, Intel or PPC Mac
128MB RAM




Linux
Pentium 400MHz or better
128MB RAM



Fizzball - great brick-breaker - $19.95
Why has everyone fled the islands? There's not a person in sight! Who will feed the animals and find out what scared the people away? Professor Fizzwizzle, of course!
Bounce bubbles, rescue hungry animals, and solve a mystery, all at the same time! Download FizzBall now, and get playing!
Here's what you'll get:
Over 180 levels of brick-busting, animal-rescuing mayhem!

Hours of enjoyment for players of all skill levels!
Includes over 40 special bonus levels!

Easy to learn and control
In the Animal Sanctuary you can visit the animals you've rescued!

Over 60 adorable species to rescue!
The coins you collect are used to buy food for the animals.
They'll keep eating even while you're not playing the game!

Special kids' mode!

If solving puzzles isn't enough for you, try out the level editor to create your own masterpiece!

Exciting trophies to unlock! !

Win dozens of cool trophies by accomplishing special feats!

Feeling competitive?

Compete with players from around the globe for online high scores!

Zero-frustration gameplay!

Tired of trying to hit that last brick in other brick-busting games? FizzBall avoids this with a terrific twist: as you play each level, your ball gets bigger and bigger!
The game automatically saves your progress!

Guaranteed fun for you , from the first minute to the last second.
Available for PC Windows, Mac OSX and LINUX
PC Windows




Get free demo now!





Get full version now!

Mac OSX




Get free demo now!





Get full version now!

Linux




Get free demo now!





Get full version now!
Still not convinced? Take a look at what other players are saying about Fizzball:
"This game is amazing, addictive and a sure winner with young and old alike."
- Bytten.com
"I am thoroughly addicted to FizzBall. It's great to have a relaxing but still challenging game with pleasing graphics and non-frustrating game-play. You guys are geniuses!!!!"
- Andrea, Washington
"FizzBall is a truly inspired, creative, addictively fun wonder. Please keep up your brilliant efforts."
- Levi, Colorado
"Well, you guys have done it again. Awesome game, lots of fun for the adults and crazy fun for the kids. Keep up the good work."
- Dan, Utah
All this for only $19.95! So what are you waiting for? The animals need you! Order now!