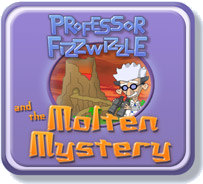 System requirements:
PC:Windows 95/98/2000/ME/XP
Pentium 200MHz or better
64MB RAM
18MB hard drive space




Mac: OS X
200MHz or better, Intel or PPC Mac
64MB RAM




Linux
Pentium 200MHz or better
64MB RAM



Professor Fizzwizzle and the Molten Mystery
Professor Fizzwizzle is a fun, mind-expanding puzzle game, where you take control of the diminutive genius, Professor Fizzwizzle. While on a well deserved vacation, Professor Fizzwizzle's investigation of a strange volcano has landed him in a Molten Mystery! Now it's up to you to master exciting new gadgets, outwit the Bat-Bots, and vanquish a truly cunning villain! Can the professor count on you to help?
What you have in store::
Over 210 levels in total! You'll find something to enjoy no matter what your skill level.

Just getting started? Try out the "regular" levels to learn the ropes!
Seasoned puzzle veteran? The "advanced" levels will be a good challenge for you!
Young in years, or young at heart? The "kids" and "alphabet" levels are sure to bring a smile!

Easy to learn and control
Smooth sailing with our zero-frustration gameplay:

No time limits
The game automatically saves your progress
Stuck on a level? Simply ask the game to show you the solution!

Full featured level editor!

If solving puzzles isn't enough for you, try out the level editor to create your own masterpiece!

Exciting unlockables!

As you solve levels, you'll earn photos to add to the professor's gallery
See photos of the prof and his Friend-Bots all over the world!

Guaranteed fun for you , from the first minute to the last second.
Available for PC Windows, Mac OSX and LINUX
PC Windows




Get free demo now!





Get full version now!

Mac OSX




Get free demo now!





Get full version now!

Linux




Get free demo now!





Get full version now!
Still not convinced? Take a look at what other players are saying about Professor Fizzwizzle and the Molten Mystery:
It is very difficult to fault PFMM. The nearly perfect system of the first game has been refined even further." "Overall Score 97%
- Bytten.com
"There is just so much packed into this game, if you're a puzzle fan you owe it to yourself to check it out."
- JayIsGames.com
"Considering the sheer number of levels in the game coupled with enhanced graphics, superb gameplay and user friendly options, this game is well worth the $19.95"
- LinuxHelp.blogspot.com
"Professor Fizzwizzle is quite possibly the best puzzle game I have ever played." "Professor Fizzwizzle should be a permanent fixture on every desktop screen."
- Bytten.com
"Hands-down, the most polished, bug-free, beautifully drawn and, above all, entertaining platform-puzzler that money can buy."
- Dorian, England
"Professor Fizzwizzle and the Molten Mystery will keep you glued to your PC's arrow keys for hours."
- Fileplanet.com
"Wow. The latest Professor Fizzwizzle is fantastic. It is such a perfect thing to dip into while I'm utterly manic at work!"
- Jim, England
All this for only $19.95! So what are you waiting for? Join the Fizzwizzle revolution! Order now!