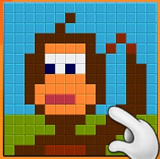 System requirements:
Mac: OS X 450 MHZ processor or higher
Stuffit 8.0.2 or higher to uncompress





PC: Windows 95/98/ME/2000/XP
64 MB RAM
openGL Accelerator 8 MB





Creativity boost for kids for as low as $9.95
Kubi is an all new set of 5 creative, brain teasing and non-violent computer activities for kids. Try to form the picture by sliding and swaping slices. Use all your skils to copy the picture or have fun with some coloring exercises. You can even draw your own KUBI pictures.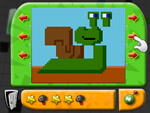 Daddy, Mammy, let's do snail
Features:
5 activities: Slide, Swap, Copy, Copy-colors, Draw
3 levels of difficulty
80 pictures to play with
draw large and small pictures
nice & easy interface for kids
30-day money back guarantee
Available for PC Windows and Mac OSX
In a world of action-filled video games, the peacefulness of Kubi is striking. It's a drawing activity center that should be well received by very young children....
Read the rest of the article >>
KUBI in PC Magazine!
My daughter loves it.
She's only 3 years old, but it doesn't stop her from playing Kubi. I was doomed since she saw snail on the screen: "Daddy, let's do snail!"
Read review on
ANAWIKI BLOG
.
Roman Budzowski - Anawiki Games