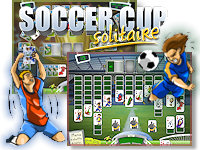 We're pleased to announce that we finished works on the Linux version of Soccer Cup Solitaire. The free trial can be downloaded from our website. The full version is available for purchase for $6.99.
Pass some time and shoot for the win with Soccer Cup Solitaire! Choose one of over 50 international soccer teams and guide them to victory with fast-paced card-matching action.

Get into the game by chaining together passing combos to increase your score. Every point earned brings you closer to scoring the winning goal! Collect Wild Cards and Bonus Cards, and use them to press your advantage on your quest to find the net. Are you ready to square off against the likes of Brazil, England, Spain and the USA? Each team you defeat is one more step on the road to the Cup! It's the world's favorite sport and the world's favorite pastime, together at last!
This is our first Linux release for almost 2 years. We'd love to hear what do you think about the way we prepared the game, the game itself… and also if there is anything we could improve. Soccer Cup Solitaire has been tested on following distributions:
Ubuntu 9.04, 9.10 and 10.10
openSUSE 11.3
Slackware 13
Please download Linux trial here:
http://www.anawiki.com/download/soccer-cup-solitaire?os=linux
PC Windows and Mac versions are available here:
http://www.anawiki.com/game/soccer-cup-solitaire