Do you love books as much as you love games? If you do, we've got a promotion going on that I'd like to tell you about. Our friends at AudioLark have generously decided to offer a free audiobook to any Anawiki customer who buys a game from the Anawiki website between December 14th and the 20th.
You've got three choices for the book: One Night in Memphis (Allie Boniface) follows the story of a broken-hearted woman finding – and at the risk of losing – her soul mate within a single night in the blues clubs of Beale Street; My Cyber Valentine (Katriena Knights) explores what happens at the junction of real life and the internet, business life and personal life, and love and hate; and for those craving a more thrilling read, Dangerous Haven (Barbara Clark) is a tale of murder, revenge and crossing destinies, set in the small town of Walkersville.
You can read more about all three books at the end of this blog entry.
If this tickles your fancy, just visit the Anawiki website, pick a game, and use coupon code AUDIOLARK. You'll get a 5% discount on the order, and receive an email on December 21st, asking you to choose one of the above audiobooks, free! The books are a $12 value, so when you factor in the discount, it's almost like getting the game itself for free! Here are some of our suggestions for games you might want to try, in order to take advantage of this holiday giveaway!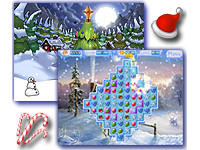 The Perfect Tree is the best way to relax this holiday season. Take a lonely pine, and turn it into a beautiful Christmas tree, while enjoying classic Match-3 mechanics.
Dress-Up Pups is our latest game, following the story of Pattie, as she manages a fashion agency for dogs. The addictive gameplay is enhanced with wacky outfits and hilarious dialogue, for an experience that will keep you laughing and clicking for hours!

Runes of Avalon is our best-seller, an exciting and dazzling Match-3 game. Unlock the ancient magic of the runes, while playing through over 100 levels, encountering bosses, bonus games and power-ups along the way!
One Night in Memphis, by Allie Boniface

What if a woman, tired of broken hearts and bad choices, traveled a thousand miles to the heart of Memphis, Tennessee, and spent a night forgetting her past in the blues clubs of Beale Street? What if a man who lost his wife to cancer ventured to Beale Street's social scene for the first time in over a year? And what if they met and realized love was still possible for them both?
Dakota James and Ethan Meriweather have both given up on finding happiness in a relationship. When they meet in downtown Memphis, at a crowded nightclub, neither has romance on the brain. But as the evening unfolds, and small talk turns to the stuff of hopes, dreams, and shared loss, a kinship grows that surprises them.
Before the night is over, though, Dakota's past will catch up with her in the form of a violent ex-boyfriend. As dawn approaches, and tragedy threatens to tear Dakota and Ethan apart, both will have to make a decision that could change their lives forever. Is new love worth putting your life on the line for someone you've just met?

My Cyber Valentine, by Katriena Knights

Chandler Carlisle has never met Val Kinsey, but she hates her none the less. The meddling pencil-pusher from her firm's St. Louis office has interfered with her work for the last time. So when Val comes to visit headquarters, Chandler's shocked to find that she is a he… and a very hot, very exciting man at that.
The attraction is mutual and their emails sizzle, but can Chandler and Val sustain an inter-office romance that spans a thousand miles? And when they meet again, can their real life passion match their cyber-sparks?

Dangerous Haven, by Barbara Clark

Sharon Smith thinks Walkersville is a safe haven. Still bruised by the loss of her husband, a man she thought she knew until his death exposed his secrets, all she wants is the peace and quiet of small town life.
Brand Templeton thinks Walkersville is a crime scene. He's returned to Hawk Haven to lay claim to his father's empire and revenge the cruelty that led to his mother's death. Now they must help each other to face the ghosts of their past if either is to have a chance at a future.