They told me it is a big game. Cake Mania 2, the sequel to the smash click management game Cake Mania. I played it and to be honest… I liked Mystic Inn much more (but I love fairies, spells and magicians). How about you?
Cake Mania 2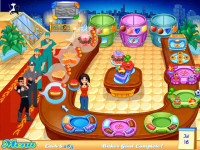 Jill is back in an all-new, out-of-this-world adventure! Explore six far-flung bakery locations, serving up deliciously original creations! What awaits Jill? Fame? Fortune? Love? In Cake Mania 2, you choose which path Jill pursues, with each decision leading to new baking challenges and dilemmas. With 204 levels of baking and frosting madness, 6 different possible endings and a branching, non-linear storyline, it's your decision to make in Cake Mania 2!
As a friendly reminder, we released Path of Magic recently. Try it if you haven't done so already.