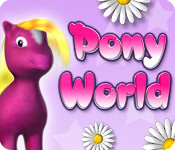 I am very excited to annouce soft release of Pony World. We did work on this title for over a year now and I believe it will take us a few more weeks to fully launch it. Though you can be one of the first few people that have the chance to play this truly unique game.
In Pony World you can play four different scenarios (+tutorial). There's a planty of stuff to do:
building your farm
meeting other ponies
feeding your pony
falling in love (or even getting married)
planting veggies
and much, much more….
Expect more detailed description soon (I need to hire someone who can speak English much better than I do to make Pony World description that the game deserves).
Download Pony World now. Feel free to send any feedback to us regarding this game. We want to improve the gameplay us much as possible.
Some screenshots (from Polish edition, though game is in English).