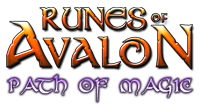 I am very excited to announce that Path of Magic, level pack for Runes of Avalon, has been released today. Creating Path of Magic we concentrated on level desing even more than before. The story is simple – Evelyne has beaten Morganna and now it's time go find the way back home. Because we didn't have storyline restrictions to level desing we could focus on fun factor instead of correlation between story and levels.
Expect lot of spells. And I mean lot of them, with chain reaction. Expect great boss levels (levels with giant runes). Can you beat 4 giant runes at once?
Overall features:
51 great levels
6 new beautiful backgrounds
Three game modes
and much more…
Don't wait.
Download it now (Windows).
Download it now (Mac Intel).
It's 30 minutes free trial (and it's only $9.99 to buy). It doesn't require Runes of Avalon to work properly (this is standalone game).
Linux and Mac versions coming soon (as soon as tomorrow).