…and new level pack preview!
Marko from Hookedgamers made a really nice review of Runes of Avalon. It is two pages long, so I'll just quote a little bit:
Runes of Avalon offers surprisingly polished gameplay … from a small development company. Reminiscent of such classics as Tetris and Coloris, but much improved. A must have!
Read full review at Hooked Gamers.
If you like Runes of Avalon I am sure you'll be thrilled to here that we're finishing the works on first add-on. It brings a whole new quest containing cleverly desinged 51 levels. While it's hard to believe they are even funnier than levels in the first quest. Just take a look at that Giant Runes level! There is a lot more magic in new levels (and they come with 6 new backgrounds).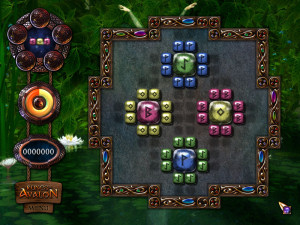 The new quest is expected to be ready as soon as tomorrow. Meanwhile, feel free to check out first quest in Runes of Avalon.