I've got couple of good news for all Runes of Avalon fans. We plan to release Runes of Avalon soundtrack – all great songs from the game have been remastered, extended and put together to create great compilation of music (18 tracks). Soundtrack will be most probably released as a high quality set of mp3 files and cd image to burn on your own (package will include cd cover images).
We are also finishing level editor, that will let you create your own set of levels. Editor is extremely easy to use and let you use all assets from the game or use your own backgrounds or songs. I can't wait to see all the levels that Runes of Avalon community might create.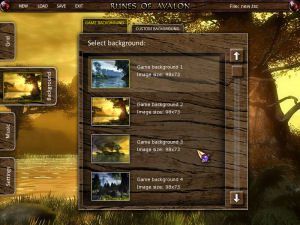 Soundtrack will be available as a separate product or as a part of Runes of Avalon Gold Edition. Level editor will be free for all Runes of Avalon owners.
Runes of Avalon Gold Edition will feature:
Runes of Avalon full version
Original soundtrack
Extra levels
Wallpapers