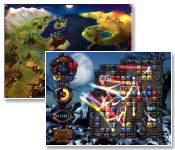 ANAWIKI is extremely happy to soft launch Runes of Avalon – puzzle game with a twist – match-3 mechanic that you have yet to see. This is our third game and so far the best one. We put enormous amount of fun, high quality art and mystic music in it. Original, intriguing and beautifuly ilustraded and voice acted story will easily put you in a mood for quest for Avalon.
Game features:
Three modes of play – Quest, Endless and Time Attack
105 challenging levels in quest
6 spells (power-ups)
Boss levels enhancing gameplay
Two bonus games
Wallpapers as a rewards for completing stages
14 enchanting images to reveal
Excellent mystic music & sfx
Intriguing storyline
Wonderful particle effects
and more…
Take a look at beautiful screenshots below, though static image doesn't fully represent games beauty.
title screen
story screen
in game
in game
rune matching
mini-game
puzzles mini-game
That's not all. Visit official website at www.RunesOfAvalon.com or download it now for PC Windows.
Feel free to post comments about the game or send it to feedback -at- anawiki.com. We appreciate it very much and it's still not to late to twist the game a little bit.