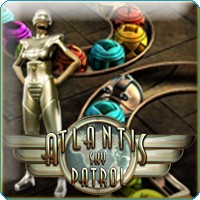 Recently we received two similar games (gameplay): Luxor 2 and Atlantis Sky Patrol (pc download). Both hitted top10 charts on many sites. Both are great games. Luxor has better roots, you can say it's a classic game. Sequel is very?polished, has great art, but… somehow it's not as fun as Atlantis is to me (of course ASP is very polished too). It's hard to define, but Atlantis seems to be more consistent in presented theme. I am really irritated by the bug that pushes balls in Luxor. It doesn't suit that game.
Power-ups are so hard to catch in Luxor (and are hardly visible). It often irritates me when I get them (and miss another time). That doesn't happen in Atlantis – all power-ups are well designed and visible. And their not that hard to catch. This is very important – you want to blast that balls, not to be irritated by missed bonuses.
Luxor 2 has a nice feature, very unique in casual games, resolution selection/ You can choose resolution you want to play with, so you're not forced to play in 800×600 mode. That's very important for all LCD monitor users. Still, some graphics are strechted, but game overall looks much better.
To sum it up: try both games, their great, but my vote goes to Atlantis.
Please read Atlantis Sky Patrol review here.
Atlantis Sky Patrol: PC Download
Luxor 2: download not available yet
Luxor: PC Download
Luxor – Amun Rising: PC Download