It's amazing that one team can make smash hit games one after another. Emmanuel knows for sure how to make them. He's newest title – Atlantis Sky Patrol, sequel to Atlantis – is one of the best ball matching games (ever played Luxor or Zuma?).
What's so hot about Atlantis Sky Patrol? In three words: gameplay, graphics, music. In that order. Did I tell you that I am the fan of Emmanuel's particle works? Explosions, lasers, shots looks very good, very spectacular.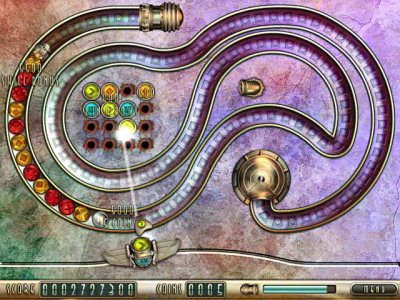 That's not all. ASP has it's own twist. Upgrade store – buy new features for your ship – better accuracy, stronger bonus magnet and more. Upgrading your ship has significant impact on gameplay.
Atlatnis introduces control panels that need to be destroyed to stop new waves of balls. It adds an extra element not yet found in other puzzle shooters. Instead of having to make so-many matches to stop the flow of balls, you have to shoot matching balls to stationary ones around the board. This means that if you are interested in getting through levels quickly you can focus on those, if interested in points you can play a level almost indefinitely.
Check it out! You will not regret.
PC Download: Atlantis Sky Patrol