We did initial playtesting for Runique and received very promising feedback. Everyone was excited about the game. That's what you wanna hear after working on your game for few months. Although people enjoyed the game, they pointed to us some weak points in the game. One of them was runes shapes.
We created new set of runes. Started with the same size. They look much better and are far easier to play. You can compare them on your own on the picture the below. New ones are more vivid and crisp.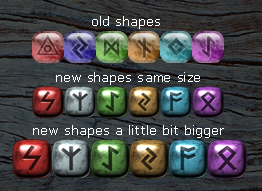 We also decided to create another set of runes. Bigger shapes will be used in cases where the playfield is a little bit smaller – 12×12 maximum (maximum playfield size is 15×15).