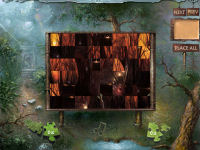 The name suggest it all. Jig Art Quest is a jig saw puzzle game. And to be honest with you I am not a huge fun of jig saw games… with exception to this one.
Why? The answer is not so simple.
Jig Art Quest is build around art. Art plays major role in this game and you can see that from the very beginning. Your quest is divided into 6 different themes such as Forest, Water, Snow, Art, Science. Each theme contains 3 unique images. That gives you a total of 18 images (+2 final images). You can play on 3 difficulty settings: easy, normal and hard. You can also enable piece rotation so it makes each setting even tougher. I prefer to play at normal difficulty without piece rotation. I can't imagine anyone solving the puzzles on highest diffulty setting (700+ pieces).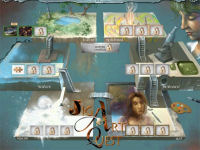 To help you start you can uncover 8 pieces and one row. This is very nice option. It helps if you don't place all pieces on the board and try to place them one by one (it's easier to match).
As I mentioned, I found Jig Art Quest very entertaining. Very nice art and well set difficulty is what I like.
I've got only two complains. First of all – quest. There's no quest, but name suggests that there is one. Then there are only 20 pictures (though each one is of great quality)… if that's not enough for you, feel free to make your own custom puzzles.