Arizona Rose and Pharaohs' Riddles for iPad released!
Unravel an ancient mystery on your iPad!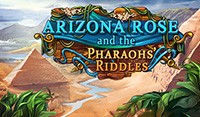 Arizona Rose is the world's foremost treasure-hunter, and her latest adventure takes her to Egypt, where an ancient temple has been unearthed. Inscribed on its walls are mysterious glyphs - a code, of the sort only Arizona can solve!
Join Arizona on an adventure that will span the globe and reveal secrets of the ancient world that no one could ever have imagined. Help her excavate five ancient sites and decipher the riddles locked inside. Along the way, your wits will be tested by 163 challenging levels of nonogram puzzles, as well as mini-games, hidden object scenes and more!
Get Arizona for your iPad

The game is also available for PC Windows and Mac OS X. Read more on our website.
Recent posts:
Arizona Rose and Pharaoh's Riddles for PC Windows and Mac OSX released
Magic Heroes: Save Our Park for PC, Mac and iOS released
Now it's easier to find us on Facebook!
Mystery Riddles for PC Windows and Mac OSX released!
Seven Seas Solitaire HD for iPad and iPhone released!